The 50th Boutique Hotel teamed up with Joinwell, a renowned furniture manufacturing company established in Malta in 1947. Joinwell has built significant relationships with top designers and local professionals that could enhance the atmosphere we sought for this hotel. The efforts to be able to create a simple, yet opulent and elegant design that complements the surrounding fortified city was significant, and could only be trusted to those who have developed a reputation for surpassing expectations. Joinwell's contribution is seen in a variety of aspects within our Boutique Hotel, representing their quality and expertise throughout our Reception area, kitchenette, guest suites and welcoming entrance. Combining the elements of old with new, the ultimate outcome is worthy of
this historical town.
Reception/ Kitchenette for clients
A welcoming Reception area consists of a chic ByDurieux bar, contrasting the earthy and rustic background of the traditional Maltese limestone walls. Ambient, delicate tones form the backdrop for the carefully detailed kitchenette, locally manufactured by Joinwell. Fitted with modern, sleek, appliances, this space magnificently balances the textured with the sleek, the vintage with the contemporary, and the simple with the complex.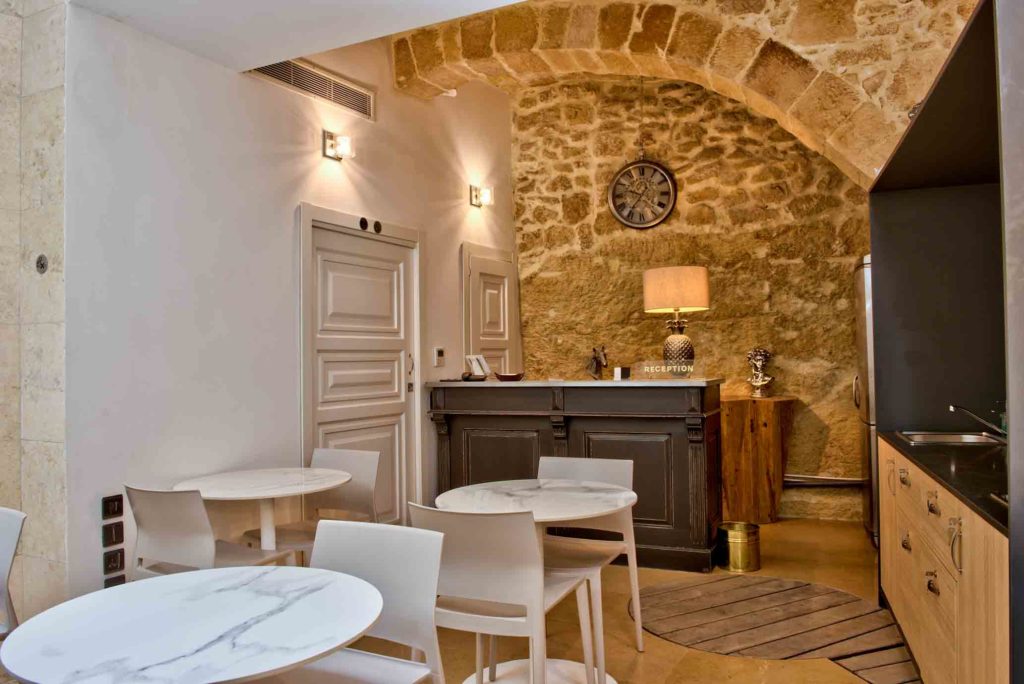 Guest Bedroom
This lavish, yet calming, suite oozes style that is reminiscent of the Renaissance period. Joinwell drew inspiration from a 16th-century design, combining it with modern luxury. Timeless tinctures highlight the locally manufactured wood panelling, framing the bedroom centrepiece, fitted wardrobes and dressing table. Textures and layers blend seamlessly with Joinwell's vibrant and custom-made semi-matte blue finish, resulting in a fine ode to Tudor grace.
Another guest bedroom
A second guest bedroom was designed to encompass a fusion of light, airy tones, with striking, darker lines. Joinwell created a custom, semi-matte beige spray to decorate the sophisticated panelled walls, manufactured in-house, which unified the client's existing furnishings and flooring colour palette. In a seemingly sharp but complementing design, Joinwell showcased black painted steel to border the rich, chocolatey personalised walnut wardrobe, incorporating a
luggage rack and delicately elegant vanity unit. The hard angles are tempered by the natural shades gracing the surroundings of the bedroom, giving it a contemporary, yet grounded feel.
Common Area to access other Guest Bedroom
A striking glass spiral staircase is complemented by a precisely tailor-made veneer, locally crafted by Joinwell. Utilities and piping for the provision of guest services have been expertly concealed behind exquisitely custom-made wall cladding. Harmoniously designed to maintain focus on the elegant staircase, Joinwell's seamless cladding lends to the overall appeal of creating a more welcoming experience for guests' essential first impressions.